Domesticated Wilderness
The landscapes of North America are shrouded in a narrative of exploitation and colonialism. During my time living in Haida Gwaii, a remote archipelago off the North Coast of BC, I was exposed to the environmental destruction of a pristine wilderness, driven by capitalist interests and a colonial culture of disconnection, and luxury. As a response, I wanted to establish an art style that minimized (or at least clearly brought attention to) the level of harm I inflicted upon the environment. So, I developed the Domesticated Wilderness project. Juxtaposing symbols of modern colonial comfort with the wilderness, illuminated by a single lightbulb powered by my car battery, gives nature a chance to interact with objects that represent the culture that is destroying it. With each piece, I am attempting to create semi-permanent, living installations so that the objects can then be "discovered" by people passing through the area, hopefully invoking a sense of foreshadowing towards an apocalyptic future.
"Moss Chair", photographed in 2017, installed in 2013.
For this installation, I took an armchair from the landfill and relocated it to an exquisite and isolated (boat access only) forest. Next, I converted the chair into an organic substrate onto which I transplanted carpets of moss from the surrounding forest. During this process I collaterally caused harm to portions of the forest floor, but with a complete awareness of the breadth of the impact. I continue to monitor the health of the moss, making adjustments to ensure a symbiosis between the object and its matched natural surroundings. Bringing the domestic comfort of an armchair into the most pristine and mossy forest I could find, I combined the two extremes of the natural resource industry; virgin forest and consumer product. This photo was taken on traditional Haida First Nations unceded territory (Cha'atl Clan).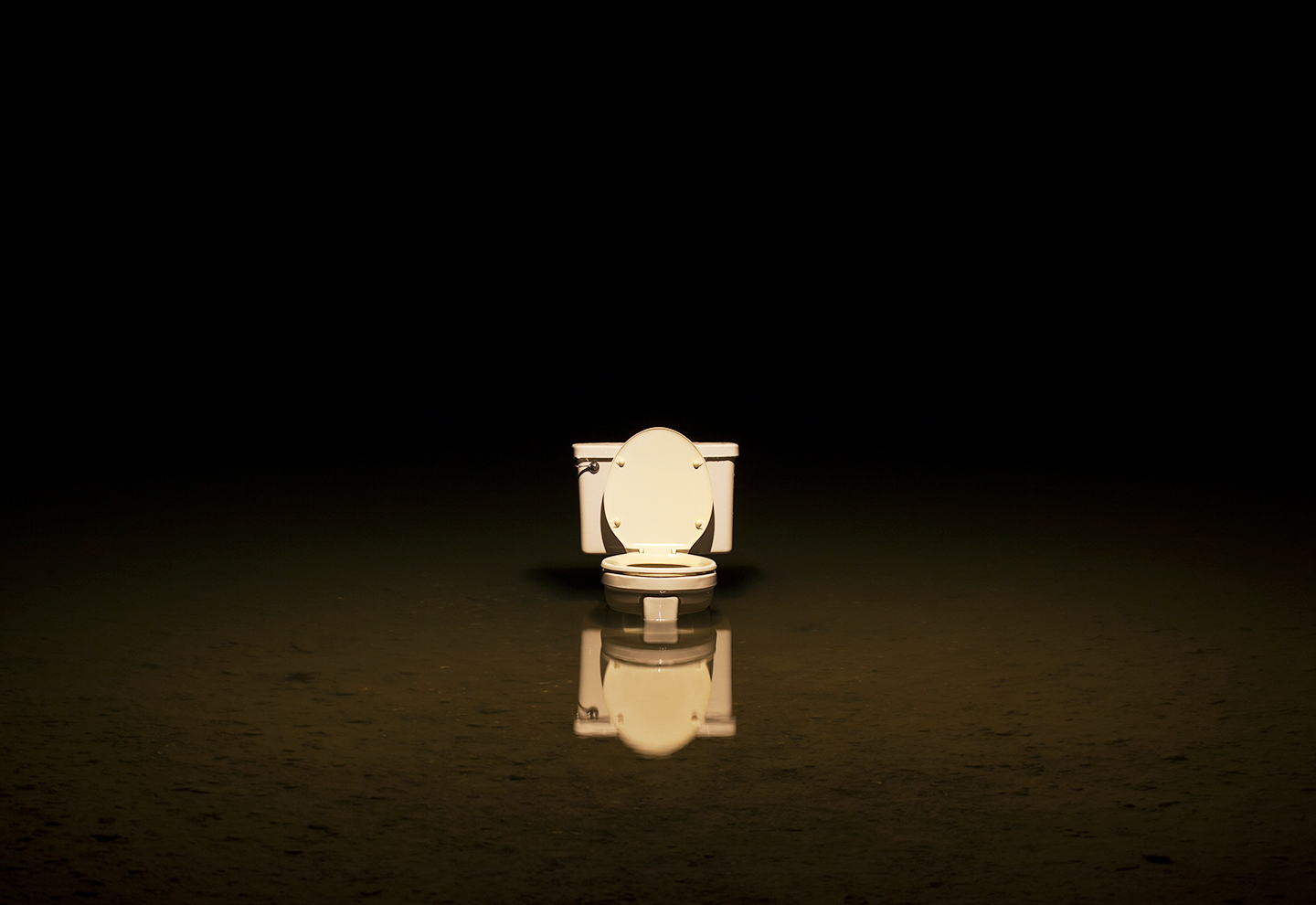 "Lagoon Toilet", temporary installation, 2018.
"Lagoon Toilet", alternatively titled, "White Supremacy, Sitting In Its Own Shit" is the first step in an effort to allow marine organisms to reclaim an object that represents the demise of healthy coastal ecosystems. In Victoria, BC, raw sewage is pumped into the Salish Sea, under the guise that the oceanic currents will carry the outfall away. Over my lifetime I have witnessed a drastic reduction in coastal marine diversity in Victoria. With a background in marine biology, oceanography, and environmental studies, I can say with confidence that irresponsible waste management systems in a growing population is responsible for the increases in harmful algal blooms and dead zones across suburban coastal ecosystems. This disregard for the balance of oceanic habitats is a function of our colonial culture, which is based on white supremacy and modern convenience. My goal is to leave this toilet in the ocean for long enough that it will become covered in barnacles, seaweed and other intertidal species, giving these creatures a new surface on which to thrive. This photo was taken on traditional T'Souke First Nations unceded territory.
Rootless
This project was developed from my determination to establish an artistic methodology that would cause minimal harm to the environment. I collected these lichens from fallen trees, or after they blew to the ground during storms (where they would not otherwise survive since they are extremely sensitive to changes in air quality and humidity). Even with the goal of creating a project consistent with my ideals of non-destructive peaceful coexistence, the act of displaying these lichen wigs in an exhibition required me to incorporate materials and processes that compromised the integrity of my initial intention.
The lichen wig provides a false hope for the existence of a truly eco-friendly consumer vanity product. Though these wigs have been ethically crafted, and they maintain direct links between the creative process and the materials' original source, it would be unethical to mass-produce them. Many lichens species are threatened, not possible to harvest sustainably in large quantities, difficult to preserve, and impossible to keep alive once brought into urban environments.
Lichens are rootless. They colonize new branches by being blown in the wind, anchoring themselves to the bark of trees. Wigs are rootless, they are a veneer, acting as a symbol for a new identity, a manipulation of our natural appearance. For those of us who are settlers, we are defined by a sense of rootlessness, living by the conventions of an imported culture that dissociates us from the ecosystem that we have colonized. Because of this rootlessness, we lack an intuitive awareness of how we fit into nature's cycles as a healthy functioning part of it, and instead, we exist on its surface, extracting materials as we need them, without consideration for the long term effects of our behaviour.
The Wig I Made When My Hair Was Short, 2017
In the early stages of my lichen wig project, I set up my camera to capture a performative piece where I stood in the rain for 30 minutes while the water changed the texture of the wig. This image shows the wig before it rained. By capturing the shared vulnerability between myself and this delicate organism, I bring attention to our corporeal sensitivity to changes in our environment.
Just Spray With Water
The model wears a wig made of usnea longissima lichens. This wig can be styled using a moisture spray made of H2O. This video depicts the lichen wig being saturated with water over the course of 20 minutes. Usnea Longissima (a lichen species that only grows in environments with perfect air quality) responds to water saturation by expanding, and stretching from the extra weight. The lichens in this wig are 3 years old at the time this video was taken, and are fully dead. Lichens are a symbiosis between algae, yeast, bacteria and fungus (the fungus provides the structure), so even after the micro-organisms have died, the lichen structure still responds to water as though it was alive. This lichen wig was made with sustainably harvested lichen clusters, collected from the ground after a wind storm. No lichen colonies were harmed for the creation of this wig.
Coming Back To Life
When usnea longissima (a lichen that mostly grows on old-growth trees, and can only survive in places with clean air quality) gets saturated with water, it expands. Even though this specimen has been dead for some time, the fungal structure of the lichen continues to respond to moisture as though it is coming back to life. This video shows a cluster of usnea longissima lichen being misted with water over the course of 8 minutes, with the video sped up.
Just Spray With Water II
Spraying this lichen wig with a solution of H2O, over the course of 15 minutes, causes the lichen to completely change its texture, and sag. The wig is made from ramanlina menziesii, a lichen species that grows on tree branches near the ocean. By simulating rain/mist, I am able to demonstrate its organic ability to be manipulated. This lichen is alive (as seen by its bright green color) and will stay alive for up to 2 years in the form of a wig, slowly dying because it can't survive anywhere except on the tree branches it used to call home. After it is dead, it will continue to respond to water saturation, and will maintain its shape, but the green color will turn to pale yellow. This wig is made from sustainably harvest lichen, taken from a tree that was soon to be cut down.
Lace Lichen Hydration
This video shows a cluster of lace lichen, being sprayed with water over the course of 10 minutes, with the video sped up, showing how the lichen has a life of its own. Lace lichen is the common name for the lichen species ramalina menziesii, which mostly grows on the branches of trees and shrubs near the ocean, and other cool humid areas.
Magazine Cover: Buyers Catalogue
This is the cover art for an in-progress magazine that will be in my upcoming art show "Eco-Vanity". This exhibition will convert the gallery space into a satirical eco-friendly retail boutique, pretending to sell lichen wigs, lichen merkins, and styling products (misting bottles full of water). This catalogue will be formatted as though you can purchase these products over the phone. Pricing for each item will be carefully calculated (and broken down for the viewer) based on the rarity and slow growth rate of lichens, along with the restrictions of sustainably harvesting them due to the infrequency of wind storms. The prices will be prohibitively high. Presenting the lichen wigs and merkins in this way emphasizes the dichotomy between true sustainability and the commodification of natural materials in the consumer platform.
Lichen Merkins
A merkin is a pubic hair wig.
The history of merkins in western culture goes back to Baroque France, where they were originally used to cover up the genitalia of women whose pubic hair had been shaved to reduce infestations of mites, lice, and fleas. In the 20th century, merkins became popular in the film industry to cover up actor's genitalia to avoid full-frontal nudity (keeping the film more appropriate for all ages), since nudity is seen as offensive and sexual, rather than normalized as neutral.
Within mainstream colonial society, there is a large consumer economy built upon the shame of one's body hair. For many women, their pubic hair is associated with self-consciousness and stigma, a symptom of a general shaming towards female sexuality. By creating pressure to conform one's appearance to standards of beauty that sexualize the body, rather than treating it as a functional aspect of our humanity, many of us are conditioned to be preoccupied with maintaining our corporal aesthetics, consuming products to support our self-image, often resulting in further harming nature.
Merkins
These merkins are made of various species of lichen, collected from either fallen trees, or from fallen branches. Since lichens rarely survive on the ground, this is a sustainable harvesting practice.
How to Groom Your Lichen Merkins
Lichen merkins of 3 different species are shown on mannequins that depict a variety of body types. A spray bottle containing H2O has a label that reads "Please feel free to spray merkins 1 - 3." The viewer is invited to actively alter the texture and shape of the lichen merkins by moistening them with water. In nature, these lichens survive only from rain, mist and airborne nutrients. Lichenologists have a very limited understanding of the intricacies of lichen reproduction and life cycles.